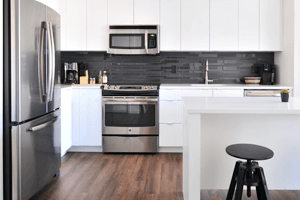 After a long and tiring day at work, probably the last thing on your mind is to maintain the cleanliness of your oven, simply because of the elbow grease you'll have to use. There's also the risk of potentially damaging the oven surfaces. Choose this dependable cleaning service and get your oven back to its pristine condition. There are many reasons to clean your oven on a regular basis, but the most important ones you should take into consideration are:
A dirty oven is less effective and needs more time to heat up, thus increasing your electricity bills
All fat and burnt carbon build-ups are easily flammable, which can lead to a fire hazard
Impurities, like grease and oil fumes, alter the taste of your cooked food
It's an ideal breeding ground for dangerous bacteria that are harmful to your health
Comprehensive Seven Step Oven Cleaning Process
Full Appliance Inspection: Our cleaning technicians assess the condition of your oven in order to choose the most suitable cleaning detergents for the job. This initial check also allows them to see if all oven functions are working properly.
Cover Areas Around Your Oven: All surfaces around your cooker are covered to protect them from any accidental soiling that can occur from spills or scrubbed off grease and grime.
Oven Disassembly: Our cleaners gently take out all removable parts like racks, shelves and filters to clean them separately. They can also check if any light bulbs need changing.
Cleaning of Removable Components: All parts taken out of your oven are cleaned using a specialised dip-tank cleaning method. All elements are soaked into a strong pre-heated degreasing and disinfecting solution for a few minutes.
Inside and Outside Oven Cleaning: Our cleaning teams pre-treat all heavy stains and organic build-ups on your oven, so they can gently scrub them off without damaging the surface. After that, a degreasing agent is applied and a final polish is performed with a non-abrasive cloth.
Reassembly of The Oven: After every part is cleaned and your oven is polished, it's put back together. During the process, the cleaners double-check for any missed stains on all surfaces.
Finalising The Cleaning Session: The cleaning technicians check your oven functionality once again after the assembly to be sure everything is okay. Now you can use your spotless oven.
Benefits Of The Modern Oven Cleaning Solutions
Get your bacteria-free and health-safe oven today
Work with adept oven cleaning teams that will deliver shining food cooking appliances
All used detergents and techniques are safe for the environment and you
Step-by-step cleaning process that ensures a pristine clean oven
A great addition to your regular domestic cleaning and move out cleaning appointments
Our customer support is available 24 hours a day, 7 days a week
Call

01942 562 029

now to ask for your personal and free quotes